Enhancing your skills with a focus on EU-funded research: Interview with our interns
19th August 2022 at 8:02 am
Professional project management and communication are key elements of successful organisations. While formal education for project management and marketing, or communication, is widely available, it usually targets businesses or similar organisations. However, project management and communication are equally important for successful research projects—including the more than 25,000 Research and Innovation Actions funded by Horizon 2020 and its successor, Horizon Europe.
Research projects funded by the European Union (EU) benefit from high-quality project management and professional internal and external communication, the same as individual organisations. However, they need a specific focus on research and EU requirements. At accelopment, we have experienced that applicants for our EU Project Management or EU Project Communication positions do not have these important specialisations from their educational backgrounds, but rather from work experience.
Hence, we have developed hands-on internships for students and early career professionals with an interest in innovation, new technologies and international collaborations with an EU focus. The internships we regularly offer typically have a minimum duration of six months and are suitable for students in their final Bachelor's year or during their Master studies. The interns are directly involved in EU-funded projects and become knowledgeable about European innovation programmes, project support and communication in science.
February 2022, we decided to offer two internships to Ukrainian students who could not pursue their studies as planned. We were lucky to recruit Anna and Yulianna, both third-year students in Economics and Law, respectively. Both have worked at accelopment for several months now and have told us about their internship experience.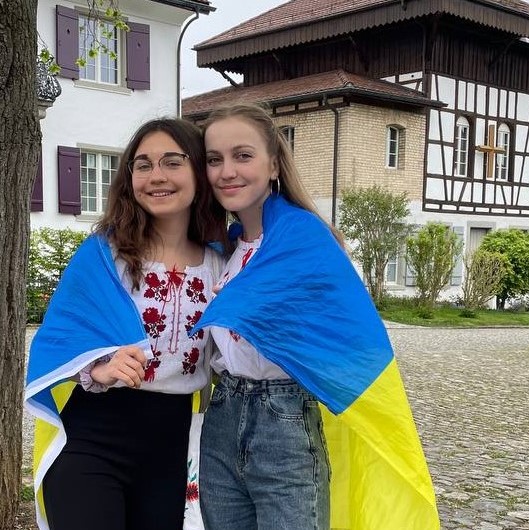 Anna: I have been a part of the Young European Ambassadors initiative for almost three years now. It aims to raise awareness about the EU's cooperation with its eastern partner countries. As a volunteer, I have taken part in the organisation of various educational events, thus acquiring practical experience and skills that I found relevant for the intern position at accelopment, which combines administrative, communication and marketing tasks. In addition, the internship is focused on EU projects, which I find very interesting. For that reason, I considered the internship offer from accelopment to be a great way for me to take my skills to a new level in a field I would certainly enjoy working in and with people who share the same values.
Yulianna: Primarily, I was interested in the fields of management, communication and marketing. Therefore, when I found the internship opportunity provided by accelopment, I was really excited, as it was a great chance to not only acquire a wide range of knowledge in the areas I mentioned before, but also to deep dive into the scientific environment, work with researchers in various spheres of studies and, in general, to get an overview of how the European funding system works from the inside.


Anna: The first week was quite challenging since everything was relatively new to me: the processes in the company, the colleagues, the projects in which accelopment is involved, but also the city and country. However, I was very excited and glad that I had come. After the first month with accelopment, I became much more familiar with the project I was working on, the internship plan and the working culture and became more confident.
Yulianna: The first period was quite difficult, as there was a huge amount of information to process. However, at the same time, thanks to the accelopment team, this time was not as stressful as I expected it to be. Everyone was open to providing any help I needed.

Anna: This was a six-week social media campaign for the AI-Mind project to raise awareness about mild cognitive impairment and dementia. I found this task to be the perfect combination of creativity and learning. For instance, I searched for various facts, later transmitted the information into visuals and a short video, prepared texts for different social media platforms and addressed the comments of my colleague and project partners to improve the work. It was a long process through which I learned to better structure my work, ask for feedback and work on mistakes.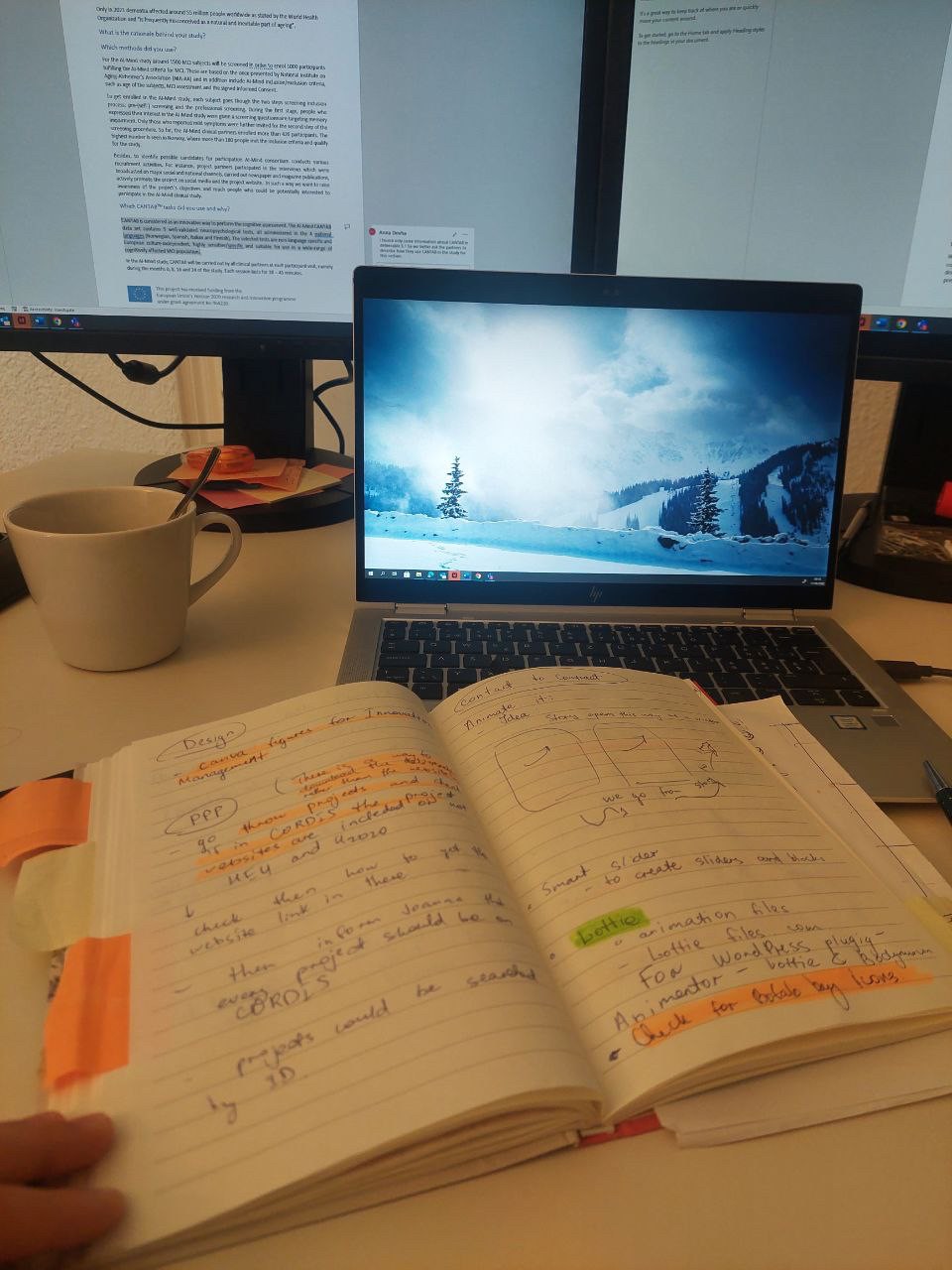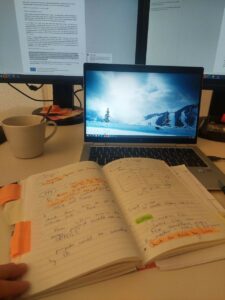 Yulianna: It has been a series of tasks related to the UN Sustainable Development Goals. I was asked to create sources with key information on these to be used in various accelopment processes, in particular for proposal writing. Thus, I have been doing research, including relevant data, and, therefore, studying sustainable development in depth, especially within accelopment projects. I also presented the results at one of our regular company meetings. I hope they will be useful in the future for my colleagues.


Anna: From the very beginning, I was really supported by the team. Not only did I have work-related questions, but I also had many things to clarify about the rules and life in Zurich. I was supervised by my colleague Joanna. We had weekly meetings to discuss the progress of the internship, set priorities for the week and plan further activities for the AI-Mind project or other tasks. I regularly received feedback from Joanna, which helped me identify my mistakes and strive for improvement. "To be consistent" is my motto now, which I learnt by working with Joanna.
Yulianna: My mentor is Emily. She is a high-quality professional in her field. Throughout my time working at accelopment, I have received essential support from her. I have always had a clear overview of my tasks, as Emily explains all the relevant information clearly and when I have doubts she always encourages me to ask questions. Moreover, I regularly receive feedback, so I am aware of my strengths and the weaknesses that I need to work on more. No less importantly, I have had great support from my mentor during my non-working time, which has helped me cope with the difficulties I faced after moving to a new country.

Yulianna: Usually, when I come to the office, Jeanette (our CEO) is already at her desk, and we have a quick talk about updates in terms of work as well as social. Then, I start working on my ongoing tasks and have calls with team members to discuss relevant questions. For lunch, we go to the small garden in the backyard of the office if the weather is nice. I like this time a lot, as we usually eat together and discuss our weekends, plans and generally interesting topics. In the second part of the day, I continue to work on my tasks and finish those that have close deadlines.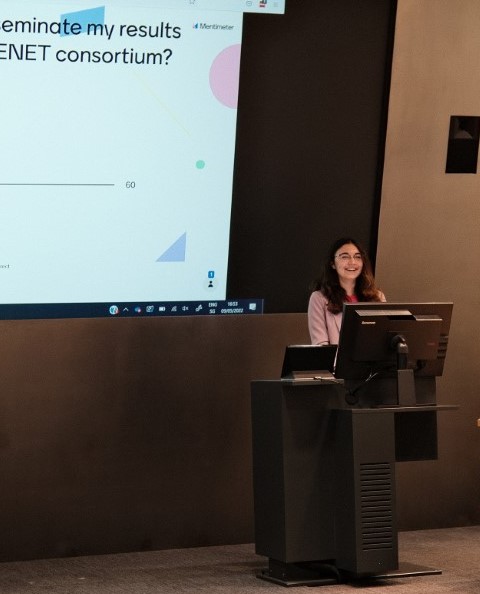 Anna: I participated in two consortium meetings, for the AI-Mind and CORENET projects. The fourth AI-Mind General Assembly brought together more than 70 participants, including clinicians, health technology assessment (HTA), artificial intelligence (AI) and ethics experts, researchers, students and specialists from other fields involved in the project. It is memorable for me not only because it was my first time in Italy, but also because of the atmosphere during the event. It was impressive to hear about the extraordinary progress the AI-Mind consortium made within the first year of the project. In addition, it was a great moment for me to meet in person people I had seen on the project website for a long time. I enjoyed conversations with researchers and PhD students and learned more about their personal experiences and impressions of the work in the AI-Mind project.
Yulianna: I had a great opportunity to participate in the CLASSY consortium meeting in Madrid. First, I was involved in the meeting preparation. Therefore, I had to deal with various tasks in terms of project logistics, social media and communication with the CLASSY team. It was exciting to meet the Principal Investigators and early-career researchers and to get updates from all the scientific work packages, with presentations on the research progress in the different fields of the project. Apart from it, I was responsible for the meeting activities within the communication, dissemination and exploitation areas. I was therefore keen on interacting with the consortium and was happy to get many ideas that were generated during the brainstorming session.


Anna: There is a lot I take away from this experience. First of all, collaboration and teamwork. I also improved my time management skills and started to accept feedback not as critique but as guidance on how I could perform my work better and be well-organised. In addition, I gained a better understanding of EU projects, had my first experience writing a communication plan and, for the first time, worked with various project management tools. I believe that I will keep developing myself with accelopment and acquiring new skills and knowledge that will be applicable in my future career.
Yulianna: I am absolutely sure that I will take away a huge amount of knowledge from this internship. I have acquired teamwork skills that will definitely be valuable in my future job or studies. I gained experience working with various tools, such as WordPress and Hootsuite, and I have improved my skills in Excel and PowerPoint.

Anna: I have seen that people at accelopment are very dedicated to their job, not afraid of mistakes and ready to cope with many challenges and a variety of tasks. The work requires you to navigate through different projects and research fields as well as switch between tasks. It is very dynamic, so you should not expect a monotonous job. If you want to be a part of accelopment, expect that the work will be demanding but also very rewarding, since we all support each other and are given the opportunity to grow together as professionals.
Yulianna: Considering the feedback I received from my colleagues throughout the entire internship period, I can say that you need to be a well-qualified employee to successfully work at this company. Apart from high language proficiency, you will need to deal with various IT tools and to be a confident Microsoft Office user. Furthermore, you need to be able to work in a team and know how to communicate and interact with different kinds of people. Last but not least, you need to constantly improve yourself and acquire new knowledge in your professional area.


Anna: The biggest surprise so far has been the volume of projects in which accelopment is currently involved. It was so surprising to see how much a team of 20 people can accomplish. Moreover, the atmosphere at accelopment is just so friendly that you do not feel a lot of pressure, even when you have many tasks. It is well balanced, and I think that it is something different than what I expected, based on other experiences of seeing people being extremely exhausted after work. However, here I see that people have so much energy to go hiking or do other activities after work.


Yulianna: Sure! I have always been encouraged to express my thoughts regarding tasks, company process improvements and, in general, any ideas I had. I have been able to work on tasks using my own approach and then get feedback on what would be the best option.
As their internship periods are coming to an end now, both Anna and Yulianna are preparing for a new start, as Anna will be working at accelopment as a Project Assistant and Yulianna will continue her studies in Glasgow.
Several of our team members started as interns and have moved to new positions within accelopment afterwards. We are always looking for new talented and dedicated employees in various positions, including internship opportunities. Would you like to know more about your working options at accelopment? Check our open positions or get in touch with Julia Götz, our HR responsible. You can also subscribe to our blog posts about accelopment and we will keep you updated on our news.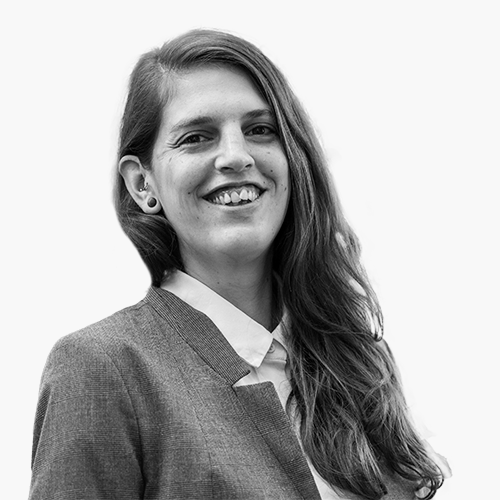 Julia Götz
Project Manager Communications
and HR
Anna Dovha
Project Support Intern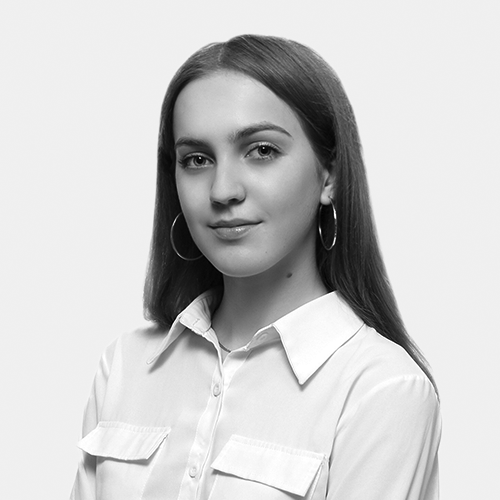 Yulianna Shalenyk
Project Support Intern
(until 2022)