No luck with EIC Accelerator? – Why not try Eurostars 3 instead?
14th September 2021 at 1:21 pm
The new Eurostars 3 funding programme has just opened and there is sufficient time for you to apply before the next submission deadline on 4 November 2021 at 14:00 CET.
Although competitive, an average of 29% of project applications receive funding and business benefits range from an average 15% turnover increase, access to new markets and improved market shares to new R&D and business relationships according to the Eureka Association that administers the Eurostars programme. Funded Eurostars projects also increase visibility of project partners.
Eurostars funding
Eurostars is an essential component of Horizon Europe, with 37 countries from within and outside Europe participating in the Eurostars programme. Each of these "Eurostars countries" has its own funding coverage policy for SMEs and other types of participants – you can check here how much Eurostars funding your company can receive in your country. Organisations in non-participating countries can still join a consortium, but will not receive any Eurostars funding and need to be self-financed.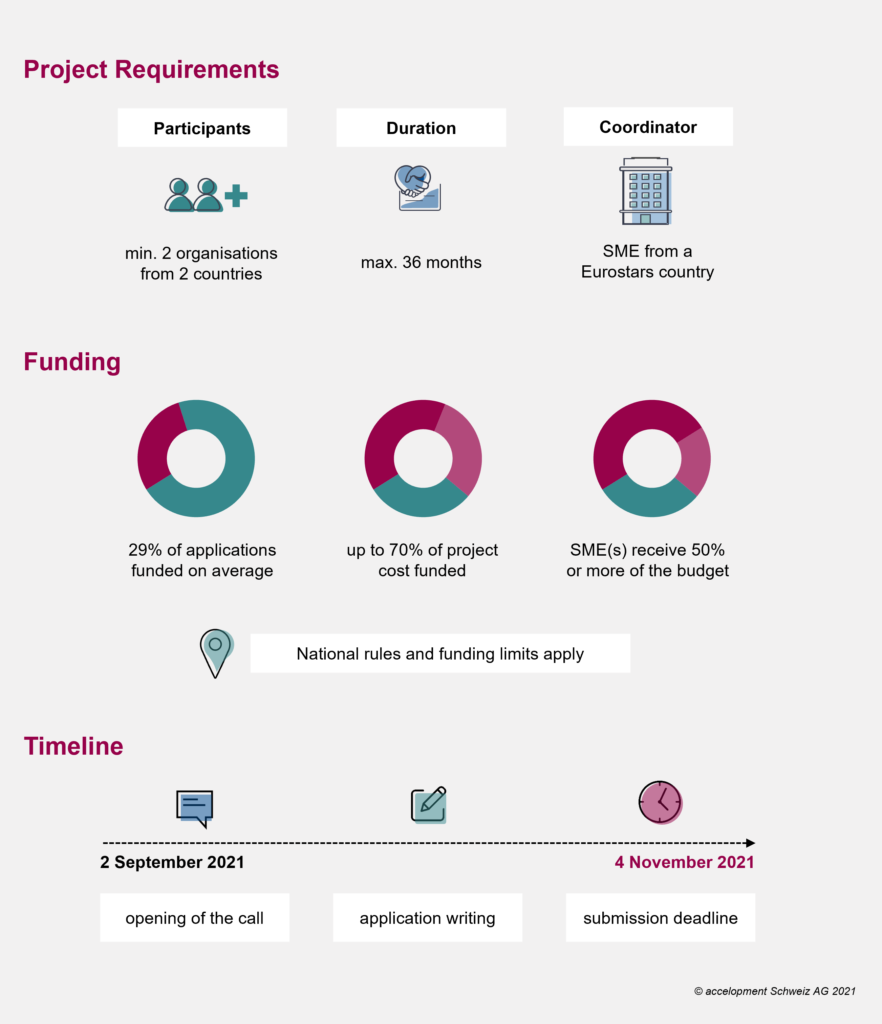 Eligibility
Eurostars 3 projects are led by SMEs that have the ambition and capabilities to develop new products, processes, or services, even if they are not R&D experienced. Project partner(s) can be either large companies, universities, research organisations, or SMEs as well. Your project can be in any technology and market area, as long as it is market-driven, i.e., is rapidly commercialised. In total, the consortium must fulfil only seven eligibility criteria:
The project consortium is led by an innovative SME from a Eurostars country.
At least two entities that are independent of one another make up the project consortium.
The project partners include entities from at least two Eurostars countries, with at least one organisation coming from an EU Member State or Horizon Europe Associated Country*.
The budget of the SME(s) from a Eurostars country, excluding subcontracting, is 50% or more of the total project cost. This means that less than a half of the budget costs can incur in larger companies or other organisations.
No single participant or country is responsible for more than 70% of the budget of the project.
The project duration is 36 months or shorter.
The project has an exclusive focus on civil applications.
*all Eurostars countries are EU Member States or Horizon Europe Associated Countries, except for Switzerland, Canada, Republic of Korea, Singapore, and South Africa.
Application
To apply for Eurostars 3 funding, the main partner has to first register on the new online application platform of the currently open call. The online application form consists of 5 main parts: Project details, Application questions, Your organisation, Declarations, and Work Packages.
Project details: Here you can invite your application team to work collaboratively on the online forms and give a main overview to your planned project explaining what, why and how you want to do it. You can also exclude entities or people from the evaluation of your application.
Application questions: The main application part consists of three sections, the Impact, Excellence, and Quality and Efficiency, for which you need to answer a set of specific questions each. This part also includes the ethics self-assessment.
Your organisation: Whereas sections 1 and 2 are completed for the project as a whole, this section must be completed for each participant individually, to see what each partner contributes to the project but also how they benefit from it. The financial information given here will not be visible to other project partners, not even after submission in the downloaded PDF.
Declarations: Before submission, the legal representative of the organisation needs to sign the Commitment and Signature form. Additionally, all SMEs will complete the SME declaration form to confirm their SME status.
Work Packages: Details on your project's work packages and tasks are given in this last part of the application. Here you also have the possibility to upload your Gantt chart, i.e., a timeline of the project, and/or a technical annex, e.g., to include figures and other illustrations.
Evaluation
Within the first week after you have submitted your application, the Eureka Association will conduct an eligibility check, followed by a review of your application by three independent experts as well as a legal and financial viability check of your organisation by the respective national funding authorities of the partners' respective countries of residence. You will receive the evaluators' comments on your proposal after about 2 months, not the final result though. As a final step, an independent panel will rank all eligible and evaluated applications and perform an ethics review. In early February 2022, only little more than three months after submission, the national funding agencies will inform you if your project will be funded.
Register for the Eurostars 3 webinar on 29th September 2021 by the Eureka Association to get a complete overview of the new programme or contact us at accelopment to discuss your project idea.
Support for Eurostars applicants at accelopment
We will offer you hands-on support throughout the whole application process, from helping you on your work plan to advising you on the project budget. We are eager to help you convince the evaluators of your innovation project.
Our many years of Proposal Writing allow us to support you throughout your application process, facilitate communication with your project partners and manage your application in the Eurostars online platform. We have been involved in several successful Eurostars applications in the past, such as the awarded OPTO-BRAIN, MAXCOAT, NoCaTS, sus@pension, MiniLib, RETWood, FP-Catheter, and most recently AirToxMonitor.