Strategic Grant Planning – Funding Programmes for Research and Innovation that meet your needs
13th June 2018 at 12:10 pm
The successful acquisition of public funding for research and innovation is a key factor not only in the career development of talented young scientists but also for those with a track record. Public funding can also be essential for innovative product development in companies, be it SMEs or larger enterprises in any industry. However, researchers and innovators hardly have time to go through thousands of funding opportunities offered by the EU and public institutions at the national level and identify a scheme that meets their specific requirements.
To support researchers, academics and companies in their quest for funding, accelopment has been offering the Strategic Grant Planning (SGP) with the goal of…
…identifying the best possible funding opportunities for your project idea and…
…setting up a realistic action and time plan for the preparation of successful applications.
What we offer
At accelopment we have a long history of supporting researchers and product developers secure funding for their research and innovation. On the European level, there are more than 200 funding programmes spread across many different areas and sectors, including those for research and innovation Whilst we have previously mainly supported numerous consortia in writing proposals, we want to help you before it even gets to that stage. With new members to our team, new opportunities have arisen and with that we have been offering Strategic Grant Planning.
This service helps you get started before you begin writing a proposal by offering you an insight into funding opportunities in the next two years. Getting an early start will allow you to start brainstorming and, if necessary, build suited partnerships months in advance. Having the key facts on funding schemes and a timeline covering upcoming submission deadlines will make the proposal writing run smoothly.
Further services by accelopment will be available to you at a later stage. Once the proposal gets accepted, we can help you execute contract negotiations with the funding agency, implement management tasks (e.g. administration, reporting and financial monitoring), and execute dissemination and communication tasks such as the planning instruments, communication measures and exploitation roadmap.
The Strategic Grant Planning process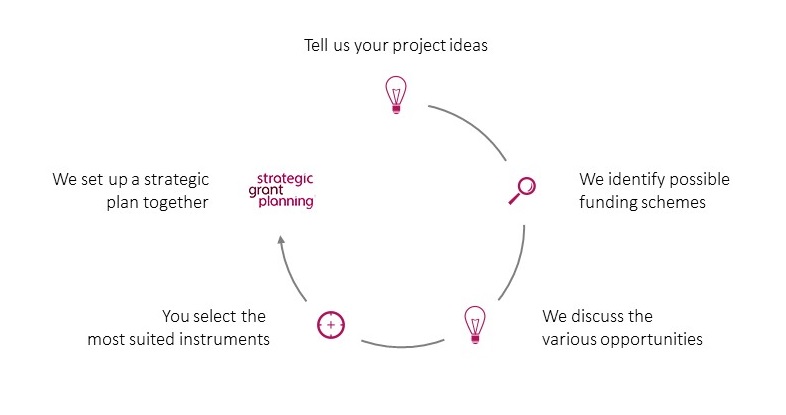 Your take-home tools
You will be equipped with a long list of funding programmes suitable to your project idea(s) and key facts on the most promising funding schemes in a short list. These include both publicly available facts and additional details based on our many years of experience with individualised scales based on their suitability. A dynamic timeline in form of a spreadsheet covering upcoming submission deadlines will be at your disposal alongside recommendations for the required resources during the application process (e.g. personnel, finances and effort). These tools can further be used for future activities.
Get in touch
Interested in Strategic Grant Planning? Get in touch with our expert Marco Cavallaro. Marco has a broad knowledge of funding opportunities.