Safety nets for Swiss and UK applicants to Horizon Europe
28th December 2021 at 8:00 am
While non-EU countries like Norway, Iceland, Turkey, and Israel officially joined Horizon Europe as Associated Countries, the negotiations between the European Commission (EC), the United Kingdom (UK) and Switzerland remain at a standstill because of political hurdles.
The UK association to the programme is still affected by the Brexit vote and implementation. Despite the agreement in principle on the UK association to Horizon Europe in the post-Brexit Trade and Cooperation Agreement, the situation has become entangled due to the current disputes over the Northern Ireland Protocol.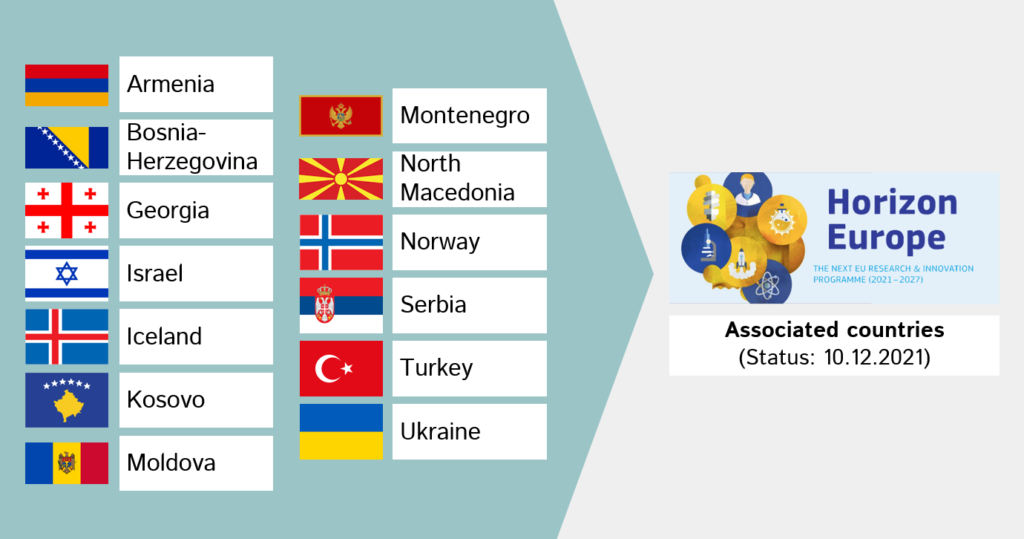 The negotiations between the EC and Switzerland are suspended since the Swiss government ended talks on the Framework Agreement meant to cover relations between Switzerland and the European Union (EU). Switzerland is currently considered to be a third country, which prevents Swiss organisations from accessing EU funding in Horizon Europe. They are also shut out completely from certain schemes like the European Research Council (ERC) and the European Innovation Council Accelerator for innovative small and medium-sized enterprises and start-ups. As you may remember, this is not the first time that Switzerland's access to the European programme is restricted after political controversies. Following the acceptance of a vote putting at stake the freedom of movement between Switzerland and the EU, the European Commission demoted Switzerland's status in Horizon 2020 (H2020) from Associated Country to third country.
Both the UK and Swiss situations led to a climate of uncertainty in their respective research and innovation system. In his study of the impact of uncertainty and restrictions on UK and Swiss participation in H2020 and different media interventions (BBC Radio 4, SwissInfo, Heidi.News), our expert Marco Cavallaro highlighted how these uncertainties negatively affected the position of UK and Swiss universities in European research and innovation networks and programmes.
To mitigate uncertainty, both countries guaranteed safety nets for successful UK- and Swiss-based applicants with financial support while waiting for the full association to the programme. The funding for UK and Swiss applicants will come from the UK Research and Innovation agency (UKRI) and the Swiss Secretariat for Education, Research and Innovation (SERI), respectively. Like in 2014, the Swiss National Science Foundation has set up temporary funding schemes aligned with the ERC and MSCA to welcome applicants interested in conducting research in a Swiss institution.
Our experience as a Swiss-based company
As a Swiss company and already partner in two new Horizon Europe projects – COVend and CORENET – we are affected by the current situation. While in COVend Swiss entities could exceptionally be funded by the EC, we are currently experiencing the Grant Agreement preparation of CORENET where two Swiss partners – IBM Research GmbH and ourselves – will be funded through SERI, as this was the case in most Horizon 2020 collaborative projects between 2014 and 2016.
Success stories from "our" UK- and Swiss-led projects
We join the call of most research associations to fully integrate Switzerland and the UK into Horizon Europe and to decouple joint research and innovation from political disputes. We are pleased to continue supporting UK- and Swiss-led EU projects tackling present and future global and European challenges: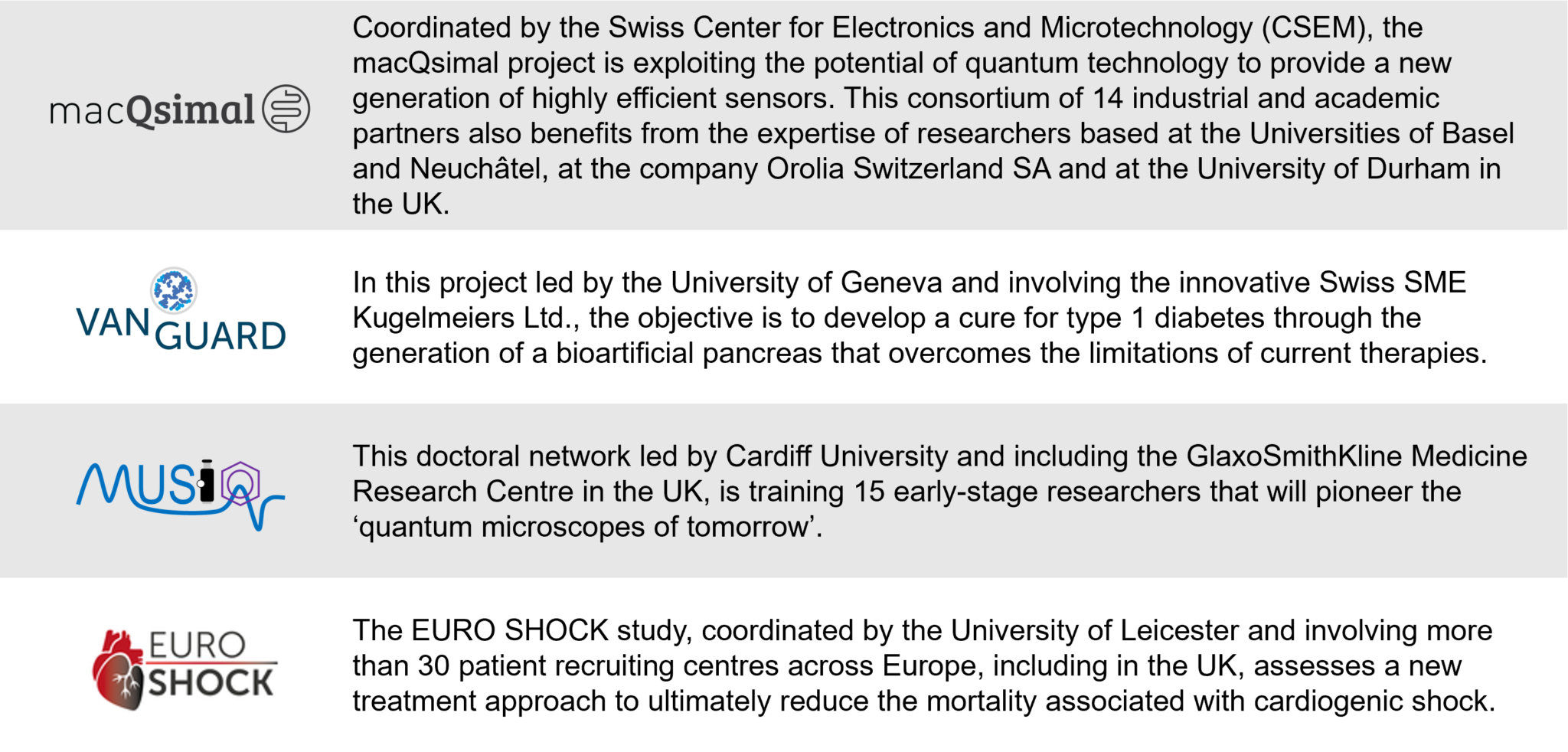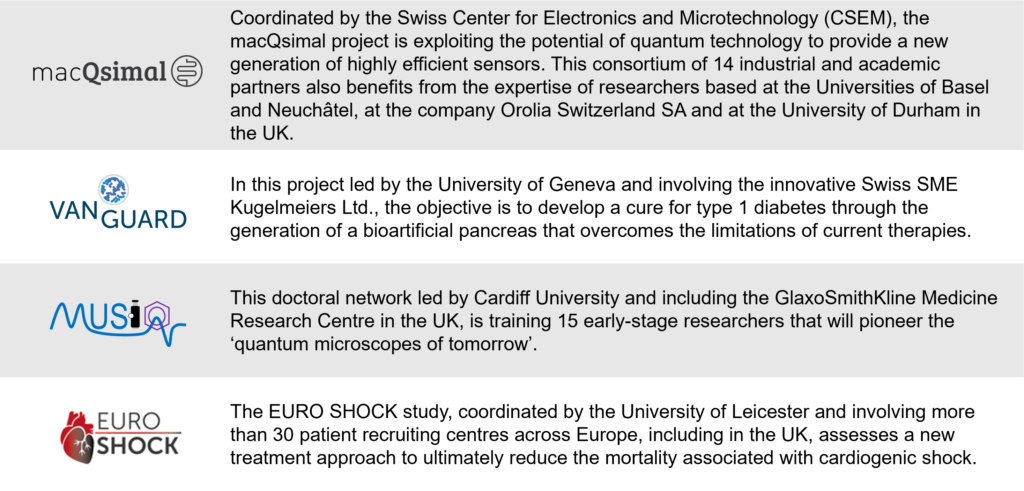 If you are planning to apply for funding from Horizon Europe or other European programmes and you have questions related to the participation of UK- and Swiss-based entities in your proposal, please get in touch with our experts Marco Cavallaro and Andreia Cruz.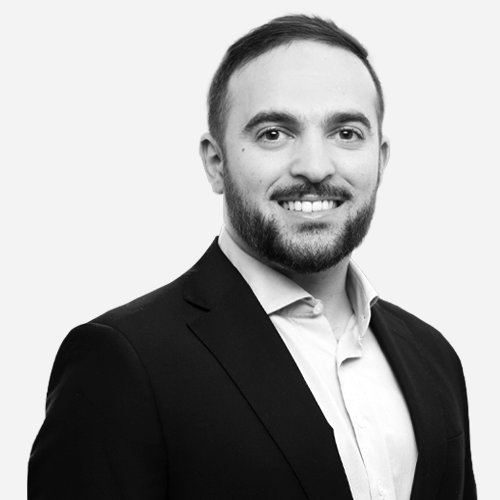 Marco Cavallaro
Research & Innovation Project Manager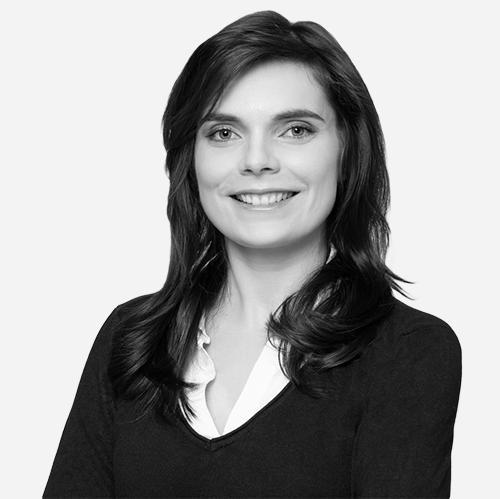 Andreia Cruz
Research & Innovation Project Manager