What to consider in Horizon Europe stage-2 Health submissions
31st May 2022 at 5:19 pm
After more than three months of waiting for the evaluation results of the stage-1 Health proposals, 240 project coordinators and thousands of project partners have now been informed on whether they are invited to submit a stage-2 proposal by 6 September 2022. Submissions for the following stage-1 call topics have been evaluated:
Although September still seems to be far away, with the end of the semester at many universities in June and the summer holidays starting soon thereafter in many European countries, the submission deadline is practically on the doorstep.
With our successful track record of two-stage submissions, we are happy to share some knowledge on the first two-stage procedure in the Health cluster of Horizon Europe, which should save you some time and support you in your proposal preparation.
What's new in Part A
We have already checked out the online forms in the EU Funding and Tenders Portal and identified the following differences:
The partner forms in stage-2 now require details on the staff members involved for each partner, a list of references and publications as well as a list of relevant completed or ongoing projects. Depending on your consortium`s size, the completion of these forms can take some time. We, therefore, recommend that you request the information from your partners as soon as possible.
Should there be any substantial differences between your stage-1 and stage-2 proposal, namely in terms of partnership, budget, or approach, you will be required to list these changes and provide their reasoning in section 5 of Part A.
Are you planning to conduct a clinical trial within your project? If yes, please remember to upload the annex "Essential information for clinical studies/trials/investigations".
What's new in Part B
The below direct comparison of the mandatory chapters shows the adaptations required for stage-2 submissions at a first glance. In total, Part B in stage-2 can consist of up to 45 pages, compared to the 10 pages submitted in Stage-1.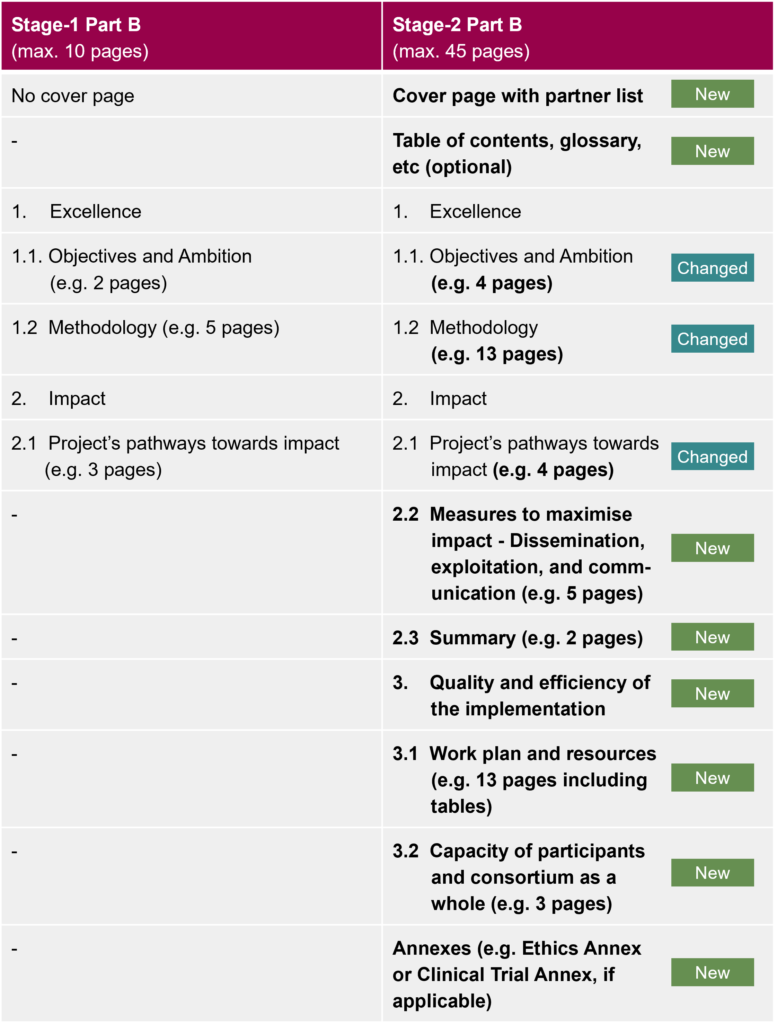 Even though the statistical chances of your proposal's success are higher in stage-2 than in stage-1, you will still need to submit an excellent proposal to make the cut. If you would like some support in writing your proposal, please feel free to contact one of our experts below. Our track record in two-stage procedures in H2020 includes EURO SHOCK and DECIDE. More importantly, we have been successful in the first Horizon Health calls with COVend, GENEGUT and MyPath.