MSCA ITN 2020 call is now open – what has changed?
15th September 2019 at 2:14 pm
The new Innovative Training Networks (ITN) call (H2020-MSCA-ITN-2020) has just opened last week (12th September 2019) and we were all curious to see what has changed since the last opening in September 2018. We have checked the conditions for the call and have compared the newest versions of the Guide for Applicants and the Standard Proposal Template (administrative forms in Part A and the templates for Part B1 and Part B2) to their previous version and collected all the changes.
What is new (and what is not)?
Although most key requirements have remained unchanged, there have been some minor updates and some bigger changes for the new ITN call. The budget for European Training Networks (ETN) has been increased from € 400 million to € 445 million, as has the budget for European Industrial Doctorates (EID) from € 35 million to € 40 million, and that for European Joint Doctorates (EJD) from € 35 million to € 45 million. However, the key points, such as the duration of the projects, minimum number of beneficiaries, maximum number of person-months per network and other requirements stay the same.
The latest version 5.0 of the Guide for Applicants (GfA) offers some more explanations and some parts have been reworded again for clarification. Major changes from version 4.0 have remained, such as the new table for EID or the removal of the GANTT chart. Although the PIC (Partner Identification Code) is still no longer mandatory for Partner Organisations, it is yet emphasised that it is highly recommended.
One of the bigger changes this year is that there is now a template for letters of commitment (Annex 6.a) that must be used by all Partner Organisations. The EC thereby highlights that the letters will also be evaluated and that experts may penalise the proposal under the implementation evaluation criterion if the letters fail to follow the template or do not give enough information on the partner organisation's role and/or enough assurance on their commitment in the project.
All changes at a glance
We have created a document for you to download where we compiled all changes in a detailed overview, whether they concern ITN proposals in general or specific new requirements for European Training Networks (ETN), European Joint Doctorates (EJD) or European Industrial Doctorates (EID).
>>Download a detailed overview of all new requirements for ITN proposals 2020 here.<<
History of Changes
The table below gives you an overview of the changes in version 5.0 2020 (12.09.2019) as compared to the previous version 4.0 2019 (13.09.2018) as defined by the European Commission in the History of Changes in the current Guide for Applicants. The official documents are available for download on the Horizon 2020 website under the Innovative Training Networks topic.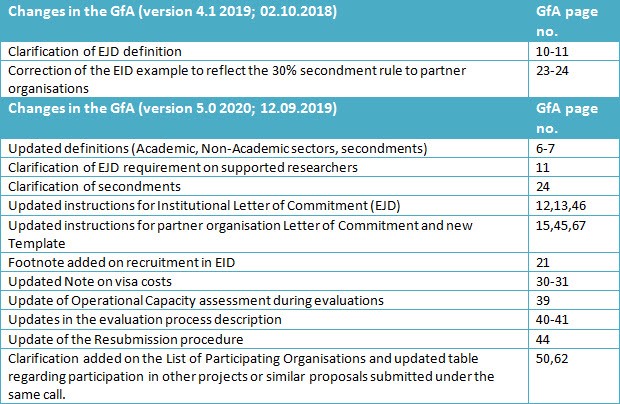 Support for your ITN proposal preparations
We not only offer full support in proposal writing but also proposal reviews for existing proposals. So whether you are planning a new proposal or a resubmission, our multi-disciplinary and highly qualified staff has many years of experience to offer you the support you need. Not only will we guide you through the application process by helping you with the proposal writing and administrative tasks, but we offer our support for the whole project life-time, advising you in contract negotiations, setting up a project website, organising meetings, creating deliverables, providing useful templates, dissemination material and other services.
Find out more about our proposal writing and proposal review services.
Our ITN track record
What started out back in 2008 during the 7th Framework Programme with the Initial Training Networks HEALING, SYSWIND, REFINE and TRAIN-ASAP as well as the NeoGel European Industrial Doctorates (EID) programme, has become a long history of supporting training networks since. Our success has not halted with the transition to Horizon 2020, in which we successfully support the Horizon 2020 European Training Networks PEARRL, Train2Target, LightDyNAmics, ImmerSAFE, NanoCarb and MUSIQ, the European Industrial Doctorate STACCATO, and most recently two EIDs MORE and MOSAICS.