Be the next Eurostars applicant – where to start and how to succeed
9th July 2020 at 3:54 pm
Since 2014, over 991 projects have been successfully funded through the Eurostars programme and you could be next!
Why Eurostars?
In many funding programmes chances for success are slim and the competition fierce, Eurostars offers a great opportunity for SMEs to realise their innovative project idea. For example, whereas Eurostars had 3,422 applications from 2014 to 2020, over 2,000 companies have applied to the Horizon 2020 (H2020) EIC Accelerator call in May 2020 alone. With about €0.5 to €2.5 million funding per project and a budget of about €300.5 million allocated to this call that was focused on project applications contributing to the European Green Deal, at least 95% of the companies will be left behind empty-handed.
With Eurostars the topic is open and the average success rate is 29%. Whether you address a Green Deal topic (e.g. clean energy, sustainable industry, building and renovating, sustainable mobility, biodiversity and sustainable food systems) or have another innovative idea close to market, your chances to succeed are much higher than in other funding schemes, notably than those within the Horizon Europe framework programme.
About Eurostars
Eurostars is a joint funding programme by EUREKA and the European Commission dedicated to support small and medium enterprises (SMEs) to rapidly commercialise their innovative projects. It is co-funded from the national budgets of 37 participating countries and by the European Union through Horizon Europe. Since 2014 a total of €1.75 billion was invested. The aim of Eurostars is to bring increased value to the economy, higher growth and more job opportunities.
Next Deadline: 15 September 2022
There are usually two cut-off dates per year to submit your application to Eurostars.
First steps
1) Read the Guidelines and familiarise yourself with Eurostars
Eurostars offers various guidelines for applicants on their website for free. We highly recommend reading these guidelines as many of your questions will be answered already. With this newly acquired knowledge you can then start your application process more easily and effectively.
Eurostars Eligibility Guidelines: These guidelines show you the criteria that your planned project must fulfil to be even considered for funding. It also explains some general definitions that are relevant in Eurostars and how to calculate your budget.
Guidelines for using the online application system: These guidelines offer a great overview of the online portal. It shows you where to register and how to log in later, what the application form looks like, how to add a work package or a participant and many other functions of the portal and how to finally submit your application. EUREKA now even share the application form in Word format, so you can work offline to collect your input and share the document with your partner(s) before transferring it to the online forms.
Eurostars Guidelines for Applicants: These guidelines will guide you through the whole application process offering explanations on how to complete every application section and a "to do list" so you don't miss a step.
Check out our previous blogs on how to master the online portal or the different annexes of your Eurostars application.
2) Create a Eurostars account on the Eurostars website: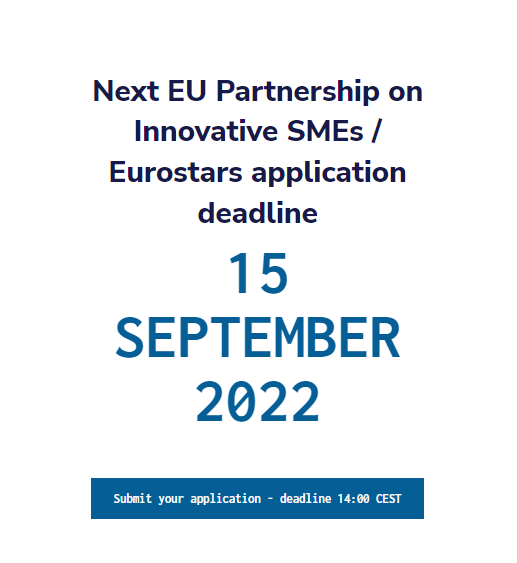 Once you have registered you will get an automatic email and also your NCP (National Contact Point) will receive an email that you have registered for a new proposal. You have now access to the online application forms via the Eurostars website.
Every country eligible to participate in Eurostars has a National Contact Point (NCP). This is a person of the national office in your country that can guide you through the application process and provide guidelines on the national funding rules and procedures (e.g. Bpifrance (France), Innosuisse (Switzerland), CDTI (Spain), etc.)
Once you have registered you will have access to the online portal and can start answering the questions of the application form.
How can we at accelopment support your Eurostars application?
We will offer you hands-on support throughout the whole application process. As there is no template for the Project Annex and hardly any limits of what you can include (as long as you don't exceed 50MB), we are eager to help you make the best impression with your Annex on the evaluators.
Our many years of Proposal Writing allow us to support you throughout your application process, facilitate communication with your project partners and manage your application in the Eurostars online platform. We have been involved in several successful Eurostars applications in the past, such as the awarded OPTOBRAIN, MAXCOAT, NoCaTS, sus@pension, MiniLib, RETWood, FP-Catheter, and most recently AirToxMonitor.).