From Innovative Training Networks to Doctoral Networks – what to expect
4th May 2021 at 1:11 pm
Update: Since we published this post, the EC has further delayed the publication of the Horizon Europe Work Programmes to end of May, which has also pushed back the publication of the first MSCA calls to 22 June 2021. The submission deadline for the first DN call has not been affected.
Old wine in new bottles? As a Partner Organisation in 18 Innovative Training Networks (ITNs) funded under Horizon 2020, we are excited about its successor funding instrument, the Doctoral Networks (DNs) within the new Horizon Europe Marie Sklodowska-Curie (MSCA) programme. Of course, we are also curious and wonder what to expect. So, we have been busy attending several workshops on the MSCA programme and notably the DNs in the past weeks, done some research and talked to our project partners, many of whom are also waiting for the MSCA Work Programme for the years 2021-2022 to be published by the EC in mid-May.
Under Horizon 2020, the MSCA Innovative Training Networks (ITN) belonged to the most popular but also most competitive initiatives. This is unlikely to change under Horizon Europe, despite some significant changes to the programme. So, while waiting for the new MSCA Work Programme to be published, let's have a look at what we know already.
What has changed?
New terminology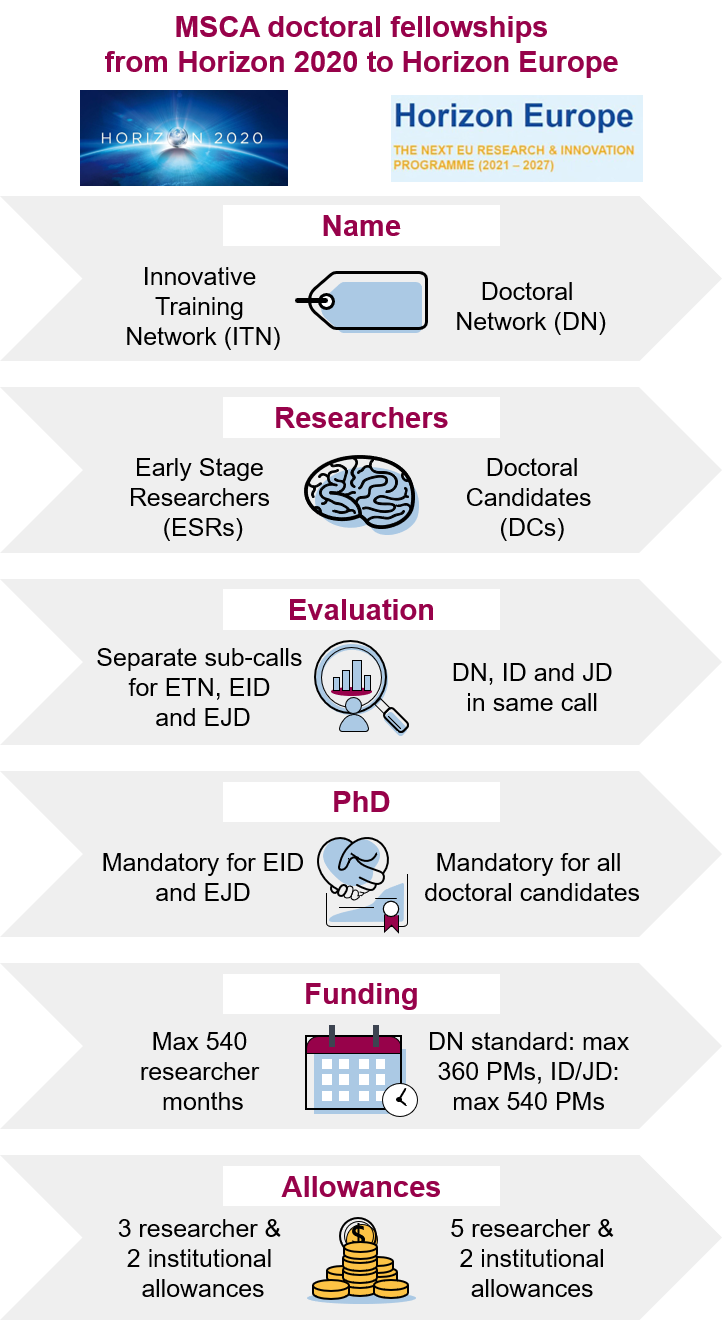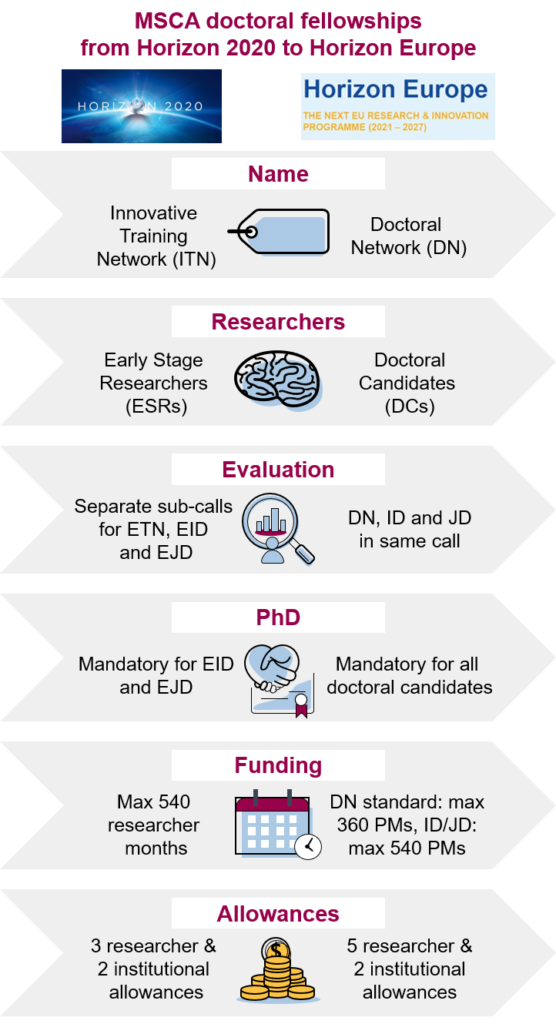 : Starting from their very own name, the new ITNs will have a completely refreshed terminology. Indeed, under Horizon Europe, they will be called Doctoral Networks (DN) and the same term will be used for the former European Training Networks (ETN). Similarly, the European Industrial Doctorates and European Joint Doctorates will both lose their "E", becoming simply Industrial Doctorates (ID) and Joint Doctorates (JD). Not to worry though, the European mobility will remain, pandemic permitting. The recruited researchers, however, will no longer be ESRs, but DCs (doctoral candidates) and Partner Organisations also get their new name, Associated Partners.
Smaller size: The EC will now only allow a maximum of 360 person-months (PM) per DN, while IDs and JDs are incentivised with an additional 180 PM, which brings them to a total of 540. The fewer person-months for the DNs will most likely lead to smaller consortia with fewer individual research projects. IDs and JDs are notoriously more difficult to implement, and thus, it will be interesting to see whether many networks will even make use of the 180 person-months incentive.
Revamped budget: The allowance structure has largely remained the same. However, the basic amounts have changed. For the 2021 and 2022 calls, the standard and non-negotiable allowances will be:


Compared with the respective allowances from the H2020-MSCA 2018-2020 Work Programme, the MSCA doctoral fellowships will remain very attractive for researchers at the early career stages. The MSCA programme will also contribute to more inclusive and equal recruitment opportunities, widening the definition of "family" to relationships with equivalent status to marriage. Researchers entering the family status during the course of the action will also qualify for the family allowance (pro-rata). The outlook for their supervisors is less exciting, as the management and indirect contribution has been reduced.
Combined evaluation: There will be no separate panels for ID and JD. Under Horizon 2020, EIDs and EJDs were evaluated in separate panels, which resulted in comparatively higher chances for success than in the ETN panels. At least for the 2021 and 2022 calls, this will no longer be the case. All DN proposals, be they standard, ID or JD networks, will be evaluated together within the eight scientific panels.
Simplified joint supervision: For ID networks, the academic and non-academic supervision of doctoral candidates may now be domestic. This marks a significant change to Horizon 2020, in which all beneficiary to beneficiary mobility had to be international. The implementation of IDs and the fulfilment of the 50% rule will now be much more straightforward.
What's new?
New allowances: In line with the European Commission's aim to make programmes more inclusive, the MSCA programme has also introduced two new researcher allowances: long-term leave and special needs. Both can only be claimed if a researcher qualifies for them. The long-term leave allowance will cover personnel costs incurred by a beneficiary in case of a researcher's long-term leave (e.g. maternity, paternity, parental, sick or special leave) and applies for absences longer than 30 consecutive days. While the EC categorises this contribution as a researcher allowance, it is a very welcome addition for the beneficiaries. Under Horizon 2020, beneficiaries could not claim person-months for researchers on leave for more than 30 days, thus carrying the entire financial burden. The special needs allowance will cover the costs for special needs items and services for fellows with disabilities. These services and goods must be specifically related to the employment of a fellow with special needs and must not have been previously covered through other sources.
Gender equality plan: Public bodies, research organisations, and higher education establishments will have to confirm the existence of a gender equality plan to participate in any Horizon Europe programme. This eligibility criterion is not specific to the MSCA programme. A transition period applies for calls in 2021.
What's next?
We are avidly waiting to find out what the next two years of DNs will look like and to share an analysed overview with you in our blog. The European Commission is expected to publish the 2021 call on 18 May 2021 and shortly before or even on the same day, they will also publish the entire MSCA Work Programme.
In the meanwhile, we are keeping busy by supporting more than ten ongoing ITNs, including the ETNs AGePOP, CAPSTONE, CONSENSE, NATURE-ETN, EuroNeurotrophin, ImmerSAFE, LightDyNAmics, MUSIQ, and NanoCarb, as well as the EIDs InPharma, MORE, MOSAICS and STACCATO. With our long-standing experience as a Partner Organisation for management, communication, dissemination and exploitation support, as well as transferrable skills training for dozens of ITNs, we also enjoy sharing our expertise through proposal writing workshops for more advanced researchers and online transferable skills training modules for ESRs.
If you liked this blog post and want to be notified as soon as we publish any MSCA related news, subscribe to our blog posts and you'll be on top of the game.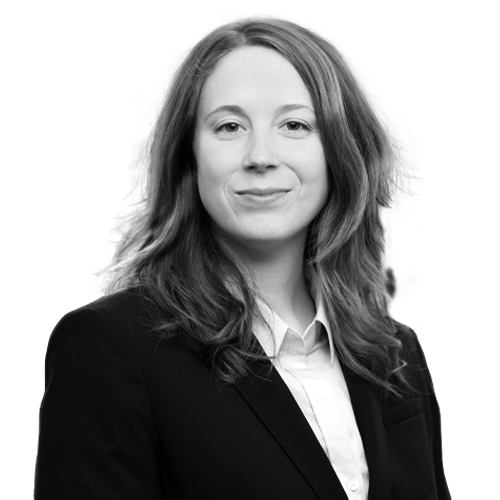 Jacqueline Strehler
Research & Innovation Project Manager