Towards higher success rates in MSCA Doctoral Network proposals?
2nd December 2021 at 4:16 pm
On 16 November 2021, 1,076 proposals were submitted for the first MSCA Doctoral Networks (DNs) deadline in Horizon Europe. Based on the total budget of € 402.95 million and the estimated average funding of € 3 million per project, we calculated the success rates to be slightly higher than what we were used to in Horizon 2020 (>12% vs. < 10%).
The decision of the European Commission to reduce the size of the standard DNs ("European Training Networks/ETNs" in Horizon 2020) from 540 to 360 researcher months appears to have reduced the number of submitted proposals and thereby increased the chances of success. To enhance the attractiveness of Industrial Doctorates (IDs) and Joint Doctorates (JDs), the European Commission kept the maximum of researcher months at 540.
Standard DNs have still been by far the most popular project type with 897 proposals (83.4%), followed by IDs with 101 proposals (9.4%) and JDs with 78 proposals (7.2%). As shown in the chart below, the proportion of JDs is higher than in previous years, while the share of standard DNs decreased from the usual 85% down to 83.4%. Due to the changes of size in standard DNs, we assume that several consortia who submitted ETNs in previous years found it more convenient to resubmit their proposal as JDs and keep the same project size, rather than keeping it as standard DN and consequently reduce the number of early-stage career research projects and network partners. The share of ID proposals remained stable.
Results expected in April 2022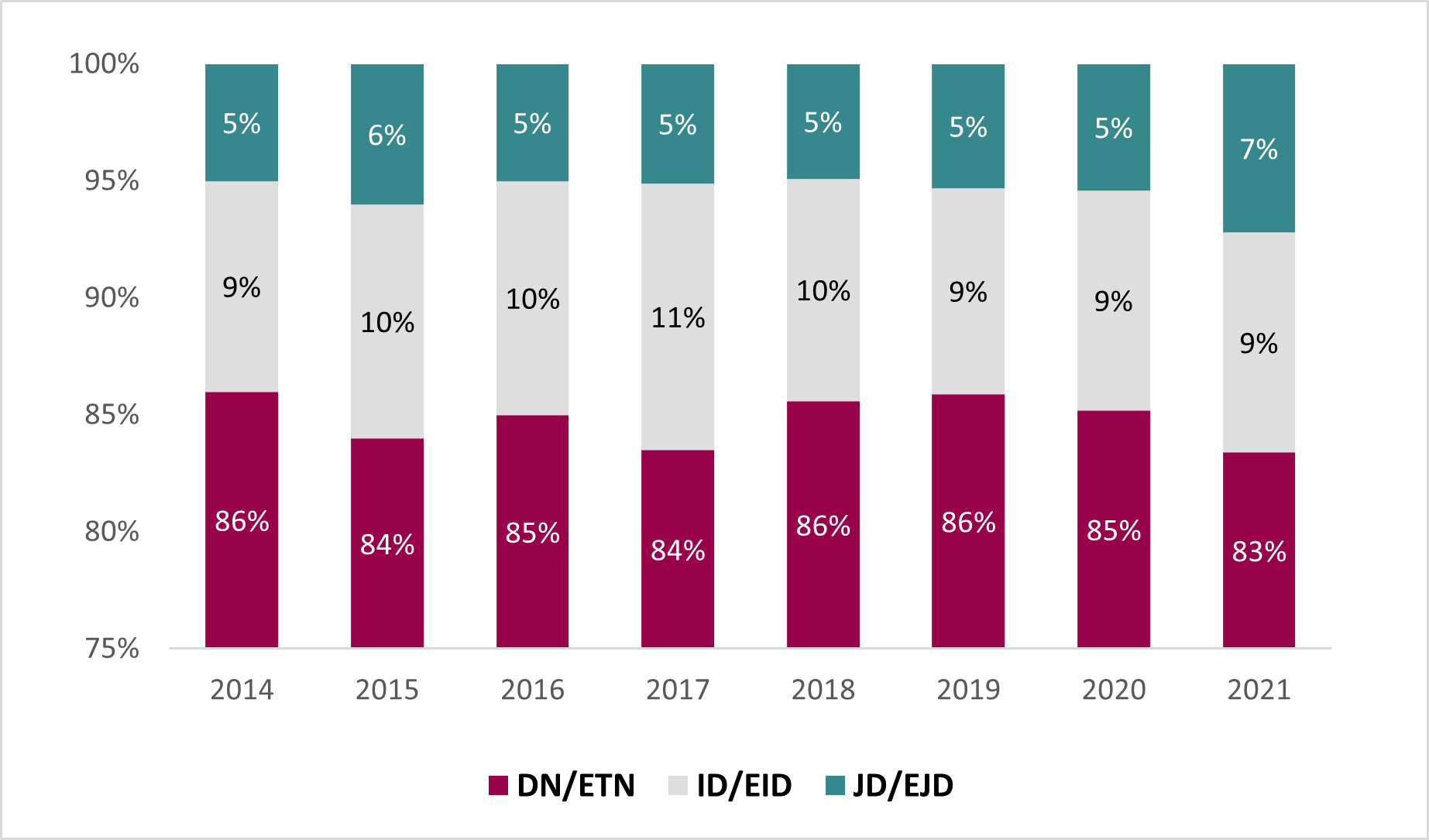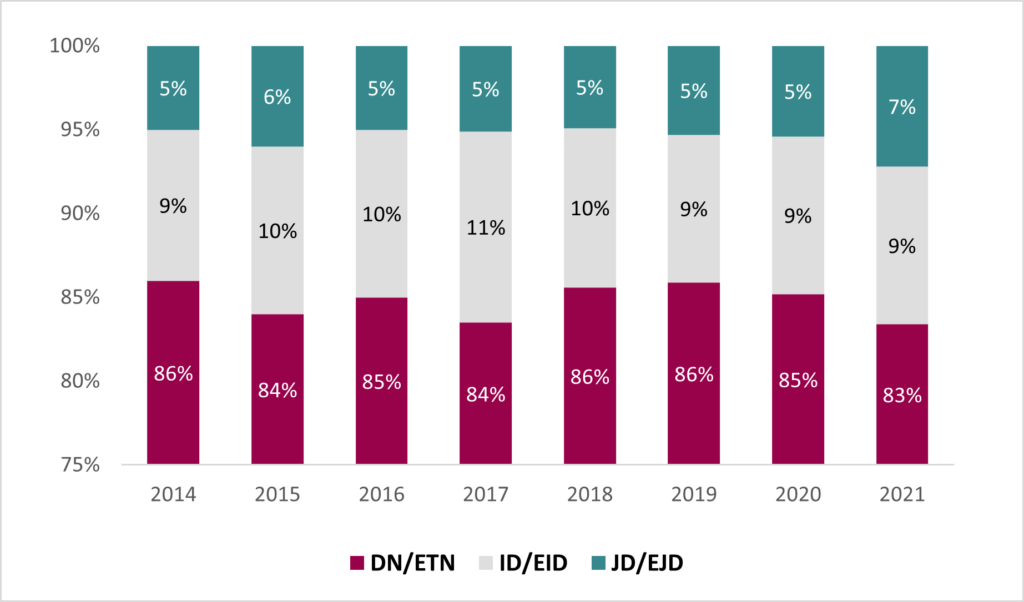 As stated on the MSCA webpage, the evaluation results will be communicated in April 2022 and the first successful DNs are expected to start in August 2022.
Perhaps you can identify or even pick and choose some that you wish your DN to cover, and why not talk to us. We at For the first time, in Horizon Europe, IDs and JDs will be evaluated in the same eight thematic panels – ranging from Chemistry and Engineering to Life sciences – as standard DNs. This is a major change in the evaluation process, as IDs and JDs were assessed within separate panels in Horizon 2020.
Next deadline
Did you miss this year's deadline? Apply to the next one on the 15th of November 2022. Or, in case that your just submitted proposal is not retained for funding and you are planning to resubmit your proposal, please mind the new rule for resubmissions. As of 2022, applications that received a score below 80 the previous year will not be eligible for resubmission.
Our track record in FP7 and Horizon 2020
From the 7th Framework Programme (FP7) with our involvement in HEALING, SYSWIND, REFINE, TRAIN-ASAP and NeoGel our success has continued in Horizon 2020 in which we have been able to support the European Training Networks (ETNs) ClickGene, EXCILIGHT, PEARRL, Train2Target, EuroNeurotrophin, ImmerSAFE, LightDyNAmics from start to finish, and are currently supporting the ETNs AGePOP, CAPSTONE, CONSENSE, NATURE-ETN, EuroNeurotrophin, ImmerSAFE, LightDyNAmics, MUSIQ, and NanoCarb, as well as the European Industrial Doctorates (IDs) InPharma, MORE, MOSAICS, and STACCATO. 
If you want to be notified as soon as we publish any MSCA-DN related news, you can subscribe to our blog posts and stay updated about the latest developments, trends and results.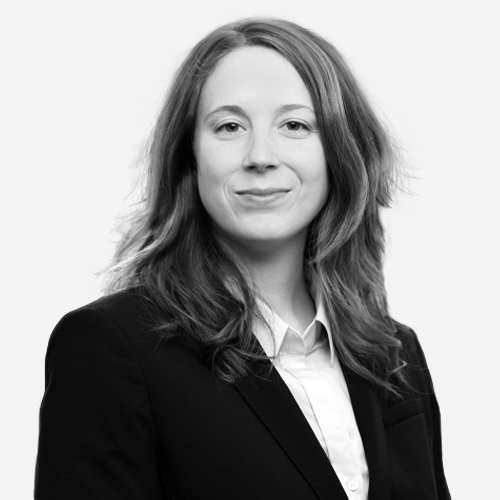 Jacqueline Strehler
Research & Innovation Manager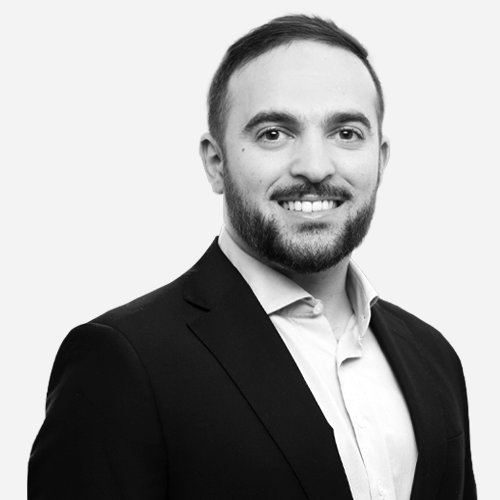 Marco Cavallaro
Research & Innovation Project Manager